Privileged Members Only.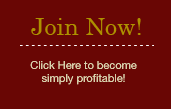 Our subscribers say:

You're probably getting a bunch of sour emails right now with these volatile markets so I thought I'd send you some praise.  Your approach and systems are awesome.  You let us know when there are buy signals, you let us know the risks, you tell us what you think of the risks, and then you leave it to us to decide. You also teach us how to calculate the signals and risks ourselves, and we can check behind you.

» More Testimonial