Privileged Members Only.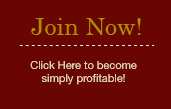 Our subscribers say:

Jack, Once I started doing that (following your trades to a "t") and maintaining the stops, I started to cut my losses dramatically. And since doing so, I am in the black nicely. I am also not following all these other "gurus" who really think they can second guess the market...ps they can't. Thanks for the excellent service too.

DM.

» More Testimonial