Privileged Members Only.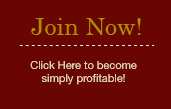 Our subscribers say:

Since you had taught us how to calculate signals and risks I was able to see that the set up was not accurate and avoid what turned out to be a bad trade. Because you fully teach us your system and how you think we can make our own calls on what to do with our money.  Anyone who would ask for more than this has unrealistic expectations about financial writers, coaches, and advisors. I greatly appreciate your guidance.

» More Testimonial