Privileged Members Only.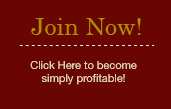 Our subscribers say:

I wished I found your service a year ago. I've been buying and holding most of my life. The sharp correction in 2001/2002 and the subsequent recovery has convinced me that buying and holding was the way to go. But the collapse this year has wiped out half of my net worth, and you are correct, I am now back to where I was ten years ago.

» More Testimonial