How may we help you?
If you have any questions about our service, do not hesitate to contact us.
If you have special payment needs, do not hesitiate to contact JACK CHAN's Simply Profits Customer Service at
subscriptions@simplyprofits.org
. We would love to hear from you and assist you in anyway we can.
To Pay By Check or Money Order
Please make checks or money orders payable to "Cyrus First, LLC" and mail to:
Cyrus First, LLC.
c/o JACK CHAN's Simply Profits
PO Box 545
Ithaca, New York 14851
Be sure to include your email address, a requested username, and a password for your subscription!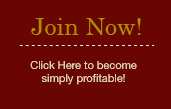 Our subscribers say:

Since your major sell signal on the broad market early this year, I've been mostly in money markets collecting 3%. Best thing I did was to unload my gold stocks when they were on average 50% higher. I can handle it if I miss the next gold train, but I cannot afford to see my net worth shrunk by 50% so close to my retirement. Your disciplined approach to the markets fits my plan very well, thank you.

RG.

» More Testimonial