How may we help you?
If you have any questions about our service, do not hesitate to contact us.
If you have special payment needs, do not hesitiate to contact JACK CHAN's Simply Profits Customer Service at
subscriptions@simplyprofits.org
. We would love to hear from you and assist you in anyway we can.
To Pay By Check or Money Order
Please make checks or money orders payable to "Cyrus First, LLC" and mail to:
Cyrus First, LLC.
c/o JACK CHAN's Simply Profits
PO Box 545
Ithaca, New York 14851
Be sure to include your email address, a requested username, and a password for your subscription!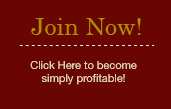 Our subscribers say:

Mr Chan,
Being heavily invested in China/HK these past few years, I took heed on your advice last Nov and began to lighten up on my exposure. I cannot imagine what my state of mental capacity would be right now had I stayed fully invested. Your caring nature and untiring support is uncommon in the business, and I cannot thank you enough for your constant guidance. Your service is unmatched.

KC.

» More Testimonial