How may we help you?
If you have any questions about our service, do not hesitate to contact us.
If you have special payment needs, do not hesitiate to contact JACK CHAN's Simply Profits Customer Service at
subscriptions@simplyprofits.org
. We would love to hear from you and assist you in anyway we can.
To Pay By Check or Money Order
Please make checks or money orders payable to "Cyrus First, LLC" and mail to:
Cyrus First, LLC.
c/o JACK CHAN's Simply Profits
PO Box 545
Ithaca, New York 14851
Be sure to include your email address, a requested username, and a password for your subscription!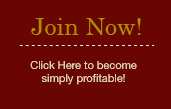 Our subscribers say:

At the end of 2008, I was in the same situation that I've seen others of your subscribers describe. I lost 28% of my retirement money in '08. Quite a bit was in gold stocks.

By mid February this year, I had become a subscriber and did the following. I set up a "Jack Chan style" traders log for all but a few core holdings. I set the entry prices to the closing prices as of 12/31/08 to eliminate the emotions I associated with the paper losses at that point. In other words, I accepted the loss at that point. I set stop orders for each stock at the most recent reversal, and moved them up for the stocks that went up. At the same time, I allocated 20% of my total to follow your trades.

The result is that, at mid year, my portfolio is up 13% for the year, while I've raised my cash position from 42% to 80%. I've become more disciplined and have more money to allocate to your recommendations, as they come along.

I've learned a lot from you. Thanks much.

B.G.

» More Testimonial